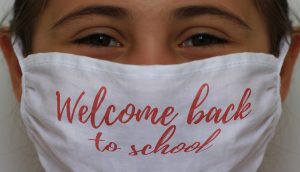 As children go back to school for the autumn term, educational institutions (including primary schools, secondary school, colleges,
college for disabled
, and special education settings) are putting in place measures to curb the spread of COVID-19. However, a lot of parents have raised various concerns.
What if My Child Has a Cold or Cough?
According to the National Health Service, any child that has mild cold-like symptoms should continue going to school. Blocked or runny noses and sore throats don't fall among the symptoms of coronavirus. The Scottish Government has said that in case of a heavy cold, then the child may need to take a day or two off school to recover. But, if your child has a new continuous cough or fever or experiences a loss/change in their sense of taste or smell, then the child may be infected with the coronavirus. If your child is showing these symptoms, then they should remain at home and isolate themselves for a minimum of 10 days and get tested. All other household members should also self-isolate for at least 14 days from the time when your child first shows signs of illness.
Are Pupils Allowed to Hug?
Getting young children to social distance can be quite challenging, and this has been recognised in guidance for schools.
"Bubbles" or small groups
the kids will mix in are encouraged in England to counteract the fact that they are very unlikely to keep 2m apart. However, pupils in Scotland and Wales are exempt from the 2m distancing rule based on the reasoning that children are less likely to comprehend the concept of physical distancing.
Will Children Need to Face Coverings at School?
In England, pupils in Year 7 and above that reside in a local lockdown area will be required to wear face coverings indoors when not in class. In addition, secondary school headteachers in the country have been given the power to introduce masks. In Northern Ireland and Scotland, pupils in secondary school will have to wear masks in between classes.
What Measures Will Schools Be Following?
Nick Gibb, England school minister, says that over the summer period, schools went the extra steps to make themselves safe. These steps include the introduction of one-way systems, hand sanitizer stations, and staggered break times. All schools are required to follow these rules at all times:
Pupils with COVID-19 symptoms, or with family members showing symptoms, will need to be kept away from school.
Hand-washing should be more frequent.
Improved cleaning procedures.
Maintain social distancing wherever and whenever possible.
Practice proper hygiene in regards to the use of tissues for coughs and sneezes.
What if There Is a Coronavirus Outbreak?
A school will be declared to have a coronavirus outbreak if it happens to have at least two confirmed coronavirus cases in the span of 14 days, or if there is an increase in the number of children out of school with suspected COVID-19. Should such a case arise, the school will be required to work with local health protection teams. A mobile testing unit may be sent if a suspected outbreak is confirmed. Pupils in the same class as the infected pupil will be the first group to be tested, followed by the year group, then the entire school if need be.
What about Schools in Local Lockdown Areas?
In case the number of coronavirus cases in an area of England changes, schools will utilise a four-stage tier system of additional measures.
Tier 1:
Schools completely open for all pupils, face coverings necessary indoors and communal areas for staff and students in Year 7 and above.
Tier 2:
A rota system – preferably two weeks open, two weeks close – will be adopted by colleges and secondary schools for most pupils, but primary schools remain open.
Tier 3 and 4:
The vast majority of pupils go back to remote learning, while key worker and vulnerable children continue going to school
What about Getting to School?
Cycling and walking are encouraged. Parents are restricted from gathering in groups at the school gate or visiting the premises without an appointment.