1. Going to the Veterinarian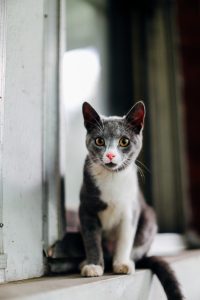 One of the most important things you can do for your pet is to take them to the vet on a regular basis. Unfortunately, pets have much shorter lifespans than the typical human and it is essential that they are thoroughly checked by a vet 1 - 2 times every year. Younger pets will require more frequent vet visits since they'll need to get their necessary vaccinations. Taking your pet to the vet from the time you get them will help ensure they maintain good health throughout their life. With that said, going to the vet can be quite difficult. For example, if you have a cat, then they would likely greatly dislike going to the vet since they usually prefer to stay at home where they are comfortable. So, you need to find ways to make your pet more comfortable and reduce their stress. For example, you can
get your cat familiar with the pet carrier
so that they wouldn't get overly stressed out when you need to put them in it for the trip.
2. Vaccinations
Next, you need to ensure that your pet gets all of their necessary vaccinations. Once you have received your pet, you should find a vet and set up an appointment for their first vaccination. The vet will create an immunisation schedule for your pet so that they can be well protected. If you have a puppy, then it is essential that they start getting vaccinations within the first couple of weeks. Of course, you should speak to your vet so that you can figure out the best time for the first vaccination. These vaccinations are essential for your puppy because they will help to prevent various illnesses such as distemper, rabies, Lyme disease and more. Cats on the other hand need vaccinations to protect them from illnesses like rabies, feline herpes, leukemia etc. In the event that you get an adult pet, then you should still take them to the vet to ensure they also have the necessary immunisation. Many vaccines need to be renewed over time as your pet gets older.
3. Identification
You should make sure that your pet has proper identification because they can easily get lost. Most pets enjoy exploring and the chances are high that they can get lost one day. In order to ensure you have the highest chance of getting back your pet, you should ensure that they have proper identification on them. This means that they should have a safe collar that includes a tag with all of your information such as your name, address and phone number. Additionally,
you should also microchip your pet
since the collar and identifying information may get lost. A microchip is basically a very small rice-sized electronic device that is placed under the skin of your pet. A scanner is used to read the information on the microchip and it would show your contact information. By having these two types of identification on your pet, it will ensure that you have the best chances of finding your pet in the event that they get lost. However, make sure that your contact details are always kept up to date, which includes your phone number and address.
4. Good Quality Food
In order to be a good pet owner, you need to always provide your pet with healthy food and clean water. By giving the best quality pet food, this will ensure that they get the nutrients their bodies need to be healthy and energetic. There are lots of pet food options available and it can be quite difficult to know which type is best. However, if you spend a little time learning about the different ingredients in pet food, you should be able to select the best food that has the necessary mix of carbohydrates, fats and proteins. You should also ensure that the food contains the necessary fibre and that it is well suited to your pet's age, activity level and health.
5. Home Care
Another important aspect of pet care is taking care of their hygiene needs at home. This means regularly brushing their coats, taking care of their dental health and even taking them to a groomer. It is best that you create a schedule for hygiene and pet care so that you don't forget. If you have someone to do
house sitting in Essex
or wherever you live, ensure that they know the schedule too.