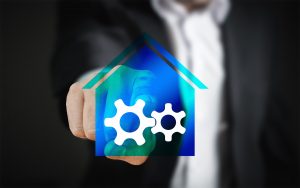 We are making the switch to smart technologies. These days, we use smart devices for managing our security, lighting, heating, along with our smartphones, TVs, coffee makers, and more. Hive, Nest, Apple, Google Home, Amazon Alexa, and numerous others are battling to win over minds and harts in the smart technology war. According to the most recent connected home survey conducted by the professional services company PWC, by 2020, 30% of consumers will have purchased a smart device for their homes. The Internet of Things is turning the future into today's reality, where our smart home devices talk to one another in addition to us. The Internet of Things extends internet connectivity into everyday objects and physical devices. These devices are embedded inside of electronics and other types of hardware such as sensors and can interact and communicate with others across the internet. That means they can be remotely controlled and monitored.
Are There Smart Technologies Available to Use on Doors and Windows?
There is an increasing number of various 'smart' window systems that are available ranging from basic security sensors and
soundproofed windows
to completely integrated systems. On the basic end of the spectrum, they include simple sensors that can be fitted to windows and doors that alert you when they are opened, up to highly sophisticated platforms that trigger an alert when you leave your house without locking doors or closing windows.
Which are the Best Smart Door and Window Security and Sensor Systems?
Smart Window and Door Sensors
The beginning point for smart doors and windows are door and window sensors. In general, they work with a smart plug-in hub that relays messages via an app to a phone or other type of smart device. Basic functionality is offered, such as a siren being triggered or an alert being sent to the home security system when someone forces a window or door when armed, in addition to tracking movements on your property. Others detect changes in temperature and alert you on your smart device app when you leave a window open accidentally.
Integrated Door and Window Smart Hardware Systems
The reason why
we decided to refer to these products as 'integrated smart hardware systems'
is due to the fact that instead of being a kind of 'bolt-on' smart solution the way so many inexpensive sensor-based options are, these products are designed as smart technology from the bottom-up and are completely integrated with the locking mechanism and hardware on new energy-efficient doors and windows.
Smart Door and Window Locking Status Systems
This type of system works on the same set of principles that smart door retrofit sensors do. They provide an alert on the status of your doors and windows. Many of these systems provide added functionality as well. They include geo-fencing, which exploits the position of your phone inside of the GPS network and triggers an alert whenever you leave your home without locking your windows or doors. The main advantage of this type of system is that they are completely integrated with the hardware and are totally self-contained instead of the clean sightlines of your doors and windows being interrupted by additional products.
Automated Smart Locking Systems
These systems go even a step further. They provide additional integration that allows you to electronically unlock and lock your doors. The integration means they can provide additional functionality as well, either via a phone app or key fob entry.
There are some systems that also let you use the app to generate unique mobile keys
and them to friends and family as well as revoke them. It keeps track of who is entering your house and when.
The Problem with Smart Doors and Windows
Confidence is the key challenge for smart door and window lock manufacturers. That is why some homeowners prefer integrated but slightly less smart hardware systems that use traditional operating mechanisms. They still offer benefits but have fewer risks associated with them.