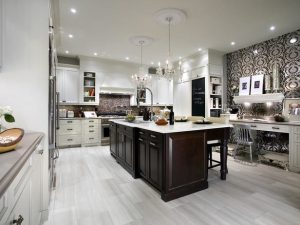 There is no doubt that when it comes to kitchen worktop renovations, it is hard to beat natural stone. The popularity of natural stone surfaces has grown exponentially in recent years. The fact that natural stone offers low maintenance requirements and easy elegance has made it a top choice for consumers everywhere. Not everyone understands how to select just the right natural stone product for their own kitchen, however. If you are considering a kitchen renovation and are looking for the very best options, it really does pay to learn the differences between marble, granite, limestone, and the like.
Benefits of Natural Stone
This all begs the question of why a homeowner would opt for natural stone. There is definitely truth to the assertion that engineered stone products such as Dekton and quartz are notable, in that they retain a cool touch and are virtually indestructible. However, the fact is that some kitchen designs, and especially the
best kitchen brands
, simply call out for the use of natural stone. Only these products bring a sense of character and depth that large numbers of homeowners truly desire. The choices within the broader category of natural stone are immense, and because the products come from locations across the world, there are seemingly innumerable colours, patterns and graining varieties on the market. Marble is a natural stone that is softer than other options such as granite. The veining and patterns found in marble make for a tremendous range of choices for consumers. Marble is essentially a type of limestone that has been exposed to high pressure and heat. Granite represents the hardest-wearing of all natural stones. However, it is still necessary to add a sealant to ensure its durability. This is a mined stone that offers a wide array of colours and veining, and as such, the price points on granite products can run the gamut. Limestone is far more porous than something like a marble, and it is necessary to seal worktops made of it. While colour options with regard to limestone are narrower, the end result provides a more casual effect than some types of granite as well as marble.
Functional Considerations
In the end, the choice of natural stone ought to reflect the functional needs of the purchaser. Kitchens are usually highly-trafficked parts of the house in which a great deal of impact is sustained. As such, durability tends to be key when selecting a worktop. While natural stones of all sorts offer stress and heat resistance, granite is the toughest of them all. Limestone, on the opposite end of the spectrum, has the greatest degree of porosity. But,
with proper sealing, it is easy to add strength and durability to any type of natural stone
.
Aesthetic Concerns
When choosing the right stone for your kitchen design, it is vital to contemplate colour as well as how much you care about the uniformity of the surfaces you install. Marble's random veining patterns can lend an air of luxury and formality, and it works to reflect natural light in an impressive manner. Granite, on the other hand, brings a wealth of colour options and textural interest that can appeal to many. Those interested in a more subdued, somewhat casual effect may want to opt for limestone.
Maintaining Natural Stone
Stone surfaces have a tremendous advantage in terms of the low maintenance requirements they bring. Laminate and wood surfaces lack this feature. Natural stone options are resistant to heat as well as staining, and water does not harm their appearance or durability. Of course,
sealing is necessary for marble, limestone, and granite
, and it ought to be repeated every few years or so. When proper sealants have been applied, all that is required is a wipe with a warm, wet cloth and some mild soap to keep the worktop clean and beautiful on a daily basis. Any kitchen can benefit from the addition of a natural stone worktop made of granite, limestone, or marble. With a bit of helpful knowledge and an awareness of your own personal taste, it is easier than ever to choose a stunning product that will last for years.