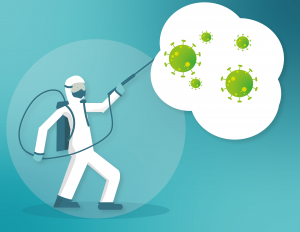 With COVID-19 spreading across the world like wildfire, scientists and organisations are continually providing updates on how businesses and individuals can fight the virus. One measure has, however, remained constant in the fight: the need to follow strict hygiene practices and protocols. Keeping surfaces clean and disinfected helps reduce the spread of the virus, so is recommended for all businesses. You, the business owner, are responsible for your employees' health and wellbeing so should take proper measures to keep them protected from the virus. It would thus be advisable to have the office, and workplace deep cleaned regularly by
commercial cleaning services
.
Office Risk Areas
You first need to identify high-risk areas within the office before calling the cleaning experts. High contact areas, such as the keyboard, PC mouse, telephone mouthpiece, the coffee machine, etc. are some of the areas known to harbour viruses and bacteria. Shared spaces such as bathrooms, kitchens, receptions, print rooms and conference rooms are hotbeds for bacteria and viruses as well. You should pay particular attention to these areas/spots and ensure they are wiped clean at least once every day. Keeping these areas spotlessly clean and disinfected will go a long way in preventing contamination and the spread of COVID-19.
Get to Know About the Virus
Almost everyone has heard something about coronavirus. That said, it would be advisable to encourage/instruct anyone that shows symptoms of the virus to self-isolate or work from home for at least two weeks.
The two main symptoms
to watch out for include:
A continuous cough
High temperature/fever
Deep Cleaning Definition
Deep cleaning is the process that involves cleaning a space intensively for some time. This is unlike a regular clean where one isn't overly attentive on the areas being cleaned. A deep clean, unlike a regular clean, leaves the entire space thoroughly clean from bottom to top. This eliminates any form of contamination in the 'deep-cleaned' area, leaving the work environment safe for all to use. You, however, must be confident of the cleaning methods used to avoid putting everyone at risk.
Electrostatic Deep Cleaning
This form of cleaning involves spraying electrostatically charged particles over equipment and surfaces to remove various types of contamination. The charged particles attract negative ions (contaminants), leaving the surfaces sanitised.
Electrostatic deep cleaning
is one of the most preferred cleaning methods today, and for a good reason. It requires fewer cleaning personnel and is 50% faster than traditional cleaning methods. It is not only effective and efficient but also more affordable.
Timing a Deep Clean Exercise
Most businesses will choose to have their workplaces deep cleaned when/if an employee is diagnosed with COVID-19. More conscious employers, however, take on a deep clean as a precautionary and preventative measure. Are all your employees working from home, with only a few having to report for work? If yes, then this is the best time to call for a deep clean. In so doing, the staff will be at a reduced risk of contracting the virus once they resume work.
Advice to Businesses
The government encourages all to work from home to help curb the spread of the virus. It would also be advisable to ask staff that show any signs of an infection to self-isolate or work from home until cleared to resume work. Although many employers have made it possible for their teams to work remotely, some lines of business require the employees to show up to work every day. If this is your case, you should then ensure the work environment is disinfected regularly.
What Does the Future Hold?
Many experts believe coronavirus illnesses will become commonplace in years to come, just like seasonal flu. That said, employers might be forced to put measures into place to ensure their workplaces are hygienically sound. The key to preventing various virus infections, COVID-19 included, is maintaining a clean work environment. This means having the workspaces cleaned regularly, and calling for a deep cleaning every once in a while, to prevent new cases.